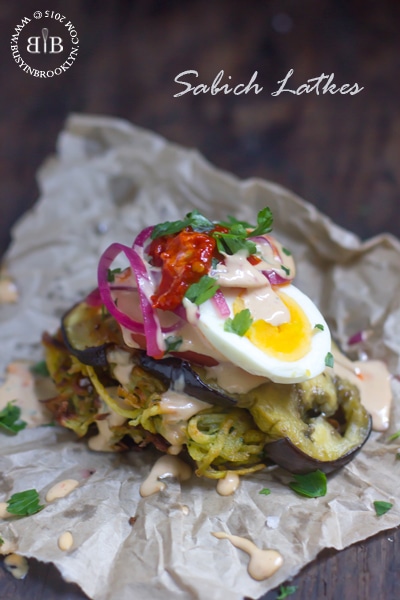 As a food blogger, one of the questions I often get asked is what my favorite dish is. If they want to know my most popular dish, that ones easy. But my favorite? It's like asking me who my favorite child is. Can a mom really have a favorite child?! But now, NOW I can answer that question. Sabich latkes, hands down, is my favorite dish of all time. Does that tell you something?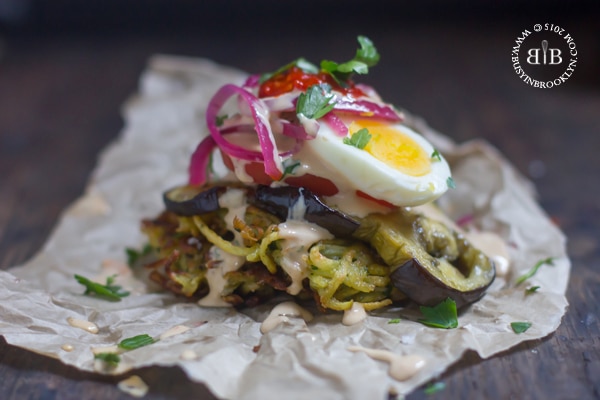 Sabich is a classic Israeli sandwich consisting of pita stuffed with fried eggplant, hardboiled egg, Israeli salad, tahini and amba (a pickled mango condiment). Since amba is not readily available to everyone, I decided to pickle some onions instead, and I added my new favorite Mina harissa for some spice. The combo is so ridiculously incredible that you're going to want to eat the leftovers for breakfast, and then lunch, and maybe dinner too.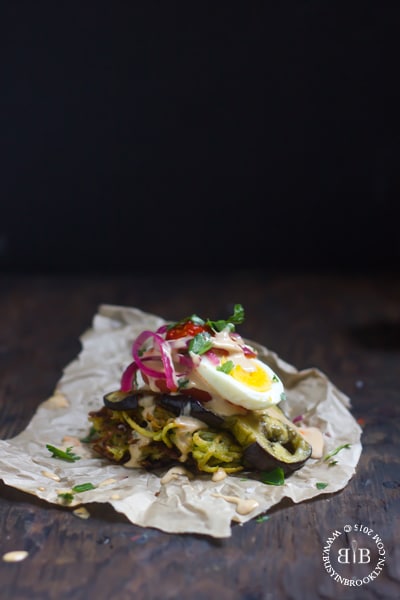 The best part of sabich, is that you can switch things up if you wish – add some hummus, Israeli pickles, schug, or go gourmand with a poached egg for a truly sophisticated bite.
Sabich Latkes
classic latkes or falafel latkes
roasted eggplant (recipe follows)
sliced tomatoes
sliced hardboiled eggs (how to)
pickled onions (recipe follows)
harissa tahini
additional harissa or amba
fresh parsley, for garnish
Method:
To assemble the latkes, top a classic or falafel latke with roasted eggplant slices, tomatoes, eggs, pickled onions, tahini, and garnish with additional harissa or amba and fresh parsley.
Roasted Eggplant
1 eggplant, sliced into 1/3″ rounds
olive oil
kosher salt
Preheat oven to 400 degrees. Place the eggplant on a parchment lined baking sheet and brush with olive oil. Sprinkle with salt and roast until tender and starting to brown, about 30 minutes.
Quick Pickled Onions
1 small red onion, sliced into thin half rings
1 cup rice vinegar
1 cup water
1/2 cup sugar
1 tbsp kosher salt
Bring the vinegar, water, sugar and salt to a boil. Remove from the heat. Add onions and set aside to cool.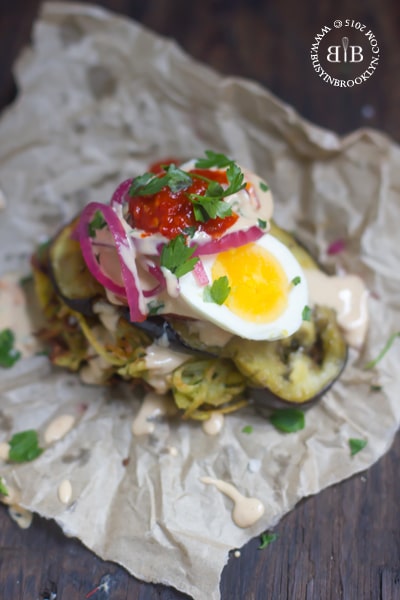 Related Recipes:
falafel latkes with harissa tahini
roasted eggplant with Israeli salad
sous vide stuffed eggplant with pistachio dukkah and tamarind tahini