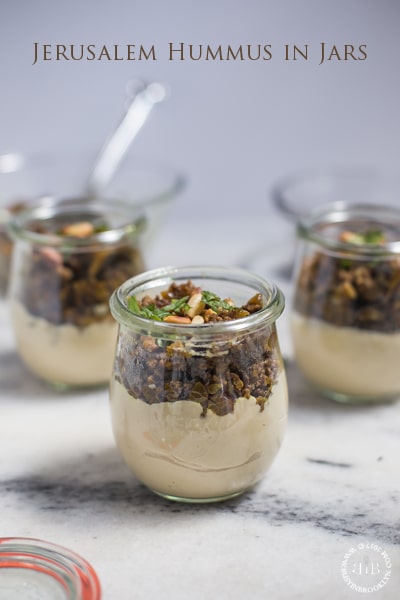 I've got to hand this one to a favorite person and a favorite cookbook: Naomi Nachman, and "Zahav", respectively. Naomi is a foodie friend who's not quite at my stage in life. She just married off her first child and her youngest is about the age of my oldest. Naomi might be older but she's got more energy than my five kids put together! She's always the life of the party and her foodie calendar puts me to shame. She just wrapped her first cookbook, Perfect for Pesach, which I was lucky enough to get some sneak peeks behind the scenes (and test some of the amazing recipes!). She runs a Pesach catering business, a "Chopped" themed party service, writes for various publications and even has her own radio show, Table for Two on the Nachum Segal Network. I love Naomi's positive energy and I'm proud to call her a friend.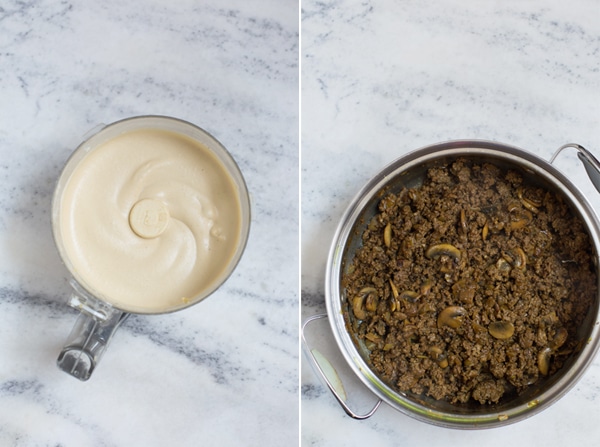 Recently, Naomi managed to squeeze in a trip to Israel amid her crazy hectic schedule, and she brought me back some Hawaj from the shuk. I'd never tried hawaj before, but I knew that there were two types of the Yemenite spice blend – one for soup and one for coffee. The spice was so potent (everything from the shuk always is!) that my whole kitchen smelled of it, even through the Ziploc bag! I wanted to make the most of the spice so I thought about how I could use it to really let it shine. And it hit me – hummus basar!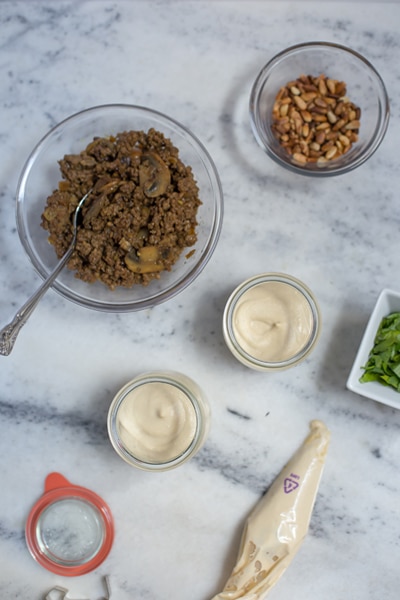 I had never made meat hummus before, or any REAL hummus from scratch and I was excited to try! I went to the holy grail of Israeli cookbooks, "Zahav" to find the perfect recipe and of course Michael Solomonov's did not disappoint. What I love so much about Zahav is that every recipe is approachable, and unlike some of the other cookbooks on Middle Eastern cuisine, Zahav is the least bit pretentious. The hummus I made from the book was by the far the best one I had ever tasted and I don't think I'll ever be able to go back to store-bought. It is just a whole 'nother ballgame.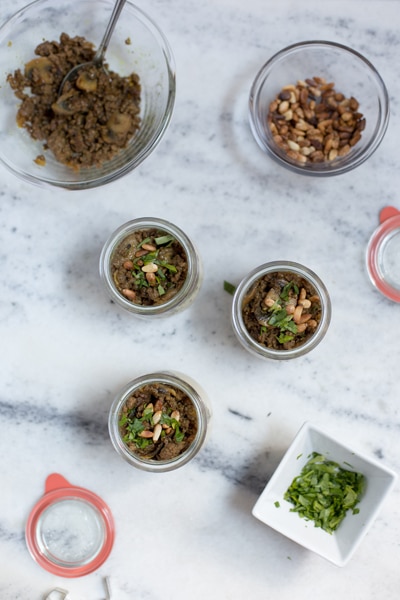 What I learned from Solomonov is that hummus is so much more about the quality of the tahini than it is about the chickpeas. I always thought of hummus as a chickpea spread, but no. It's a silky-smooth-sesame chickpea spread that will knock your socks off. You start by preparing silky smooth tahini that involves a brilliant garlic hack that I won't share (buy the cookbook to find out what it is!). Then you take that tahini perfection and add loads of it to butter-soft chickpeas. Oh. My. God. is it good.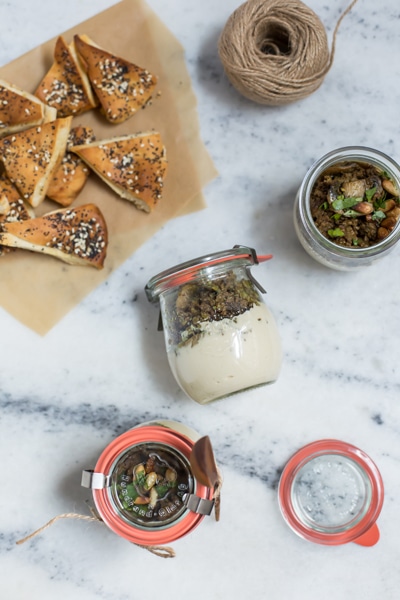 Zahav's hummus recipe is a two step process, but I've simplified it here into one. I would definitely encourage you to try the original recipe at least once, but this makes a pretty good substitute. And please do me a favor and don't put the amazingly pungent and flavorful hawaj-spiced beef over store-bought hummus because that's like serving homemade shortcakes with canned whipped cream. Just no. And if  you're feeling up to the task, try Zahav's pita recipe and bake 'em up in mini to go along with these Jerusalem hummus jars. There's really nothing quite like homemade pita to go along with homemade hummus.  I've made the recipe a few times already and it is super simple and incredibly delicious!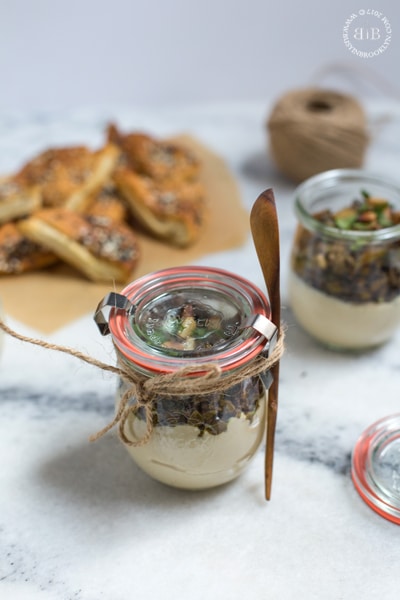 If this post hasn't already compelled you to buy the cookbook, here's an excerpt of a review I wrote after I got it:
"Michael brings the beauty of Israeli culture and cuisine to the forefront without the bells and whistles. He lets the food stand on it's own, humble and beautiful, with clear, easy to fllow recipes that dont require millions of ingredients. And he's not cheffy about it either….This guy isn't cooking Israeli food because it's trendy, he's just doing what he loves and it comes through on every page. Even though he himself is not kosher….he acknowledges that the rules of kosher define the boundaries of Israeli cuisine and keeps all the recipe in the book (and in his restaurant) free of shellfish, pork and mixing milk and meat. In a culture that thinks that you have to be "treif" to be cool (especially so if you are Jewish), this man has my total respect). "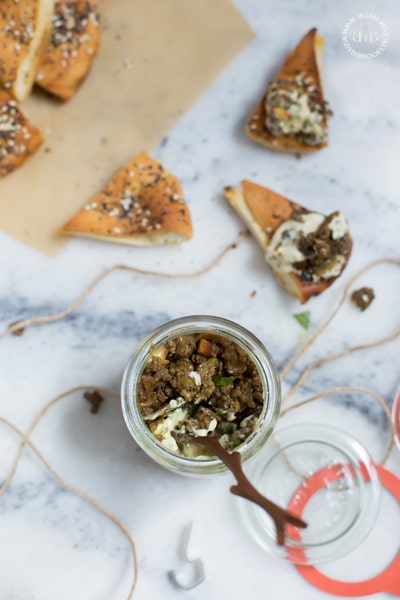 Of course this Hummus Basar was made in jars in the spirit of Purim, but feel free to make this recipe and serve Israeli style, in a big bowl with lots of fresh pita for dipping! You can also make the hawaj beef and serve it over rice, it makes for a delicious side dish!
Jerusalem Hummus in Jars
Hummus
1 cup dried chickpeas
2 tsp baking soda, divided
2 cloves garlic
1/4 cup + 1 tbsp fresh squeezed lemon juice
2 tsp kosher salt
1/2 tsp cumin
1 cup good quality tahini paste (stir thoroughly before using, as oil and solids tend to separate)
3/4 cup ice water
Add the chickpeas and 1 tsp baking soda to a large bowl and cover with a few inches of water. Soak overnight.
Drain the chickpeas and rinse. Add chickpeas and remaining teaspoon of baking soda to a pot and cover with a few inches of water. Bring to a boil and skim any scum that rises to the surface of the water. Reduce to a simmer and cook, covered, for one hour, until soft and tender. Drain well.
Add the garlic, lemon juice, salt, cumin and tahini to the bowl of a food processor with the S blade attached. Puree the mixture, and while the machine is running, pour the ice water through the feeding tube. Blend until the mixture is very smooth.
Add the drained chickpeas and continue to blend until creamy. Adjust seasoning,, adding more salt, cumin or lemon, if desired.
Hawaj Spiced Beef
2 tbsp extra virgin olive oil
1 onion, diced small
2 cloves garlic, minced
8 oz. button mushrooms, sliced
1 1/2 lb. ground beef
1 tsp hawaj for soup
kosher salt, to taste
1/4 cup pine nuts
handful of fresh parsley, chopped
pita chips or homemade pita, for serving
Heat olive oil in a skillet and add the onions. Saute until translucent. Add the garlic and mushrooms and continue to saute until all the moisture from the mushrooms evaporates and they begin to brown. Add the hawaj and stir until incorporated and the mixture is fragrant. Add the beef and salt and cook until crumbly and no longer pink.
Toast the pine nuts in a dry pan over medium heat, or in the oven at 375 degrees, until browned.
To assemble the jars, fill a piping bag with hummus and fill about 1/3 of the jar. Top with beef, pine nuts and parsley. Alternatively, you may spread the hummus out in a large bowl and top with spiced beef, pine nuts and parsley.
NOTE: Hawaj is a yemenite spice blend. There are two types of hawaj – for soup and for coffee. Make sure to use only hawaj for soup. You can make your own with this recipe.
VARIATION: If you don't have hawaj for soup, you may use shawarma spice, Jerusalem spice, or baharat.
YIELD: 8-10 8oz. jars. (I used these jars)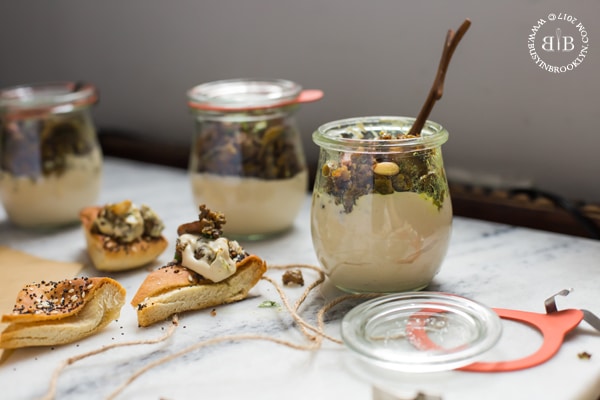 Related Recipes:
chestnut hummus with herbed pita chips
roasted garlic hummus with everything pita chips
chicken shawarma
farro grain bowl with Jerusalem pargiot
sweet tahini dip