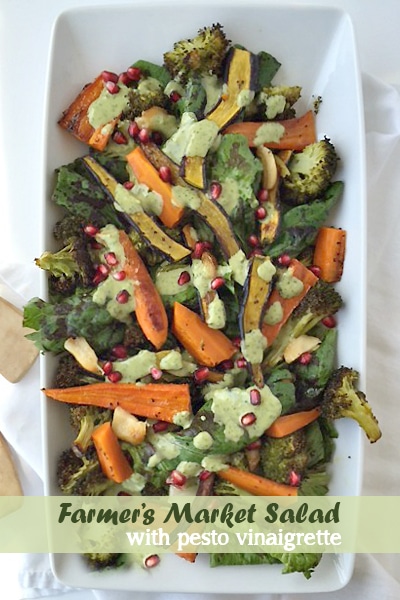 I can't believe how time is flying and my little munchkin is already 2 months old. And you know what that means? It means that it's back to life, back to reality. Time to wrap up these guest blog posts with a big finish from my pal Whitney Fisch from Jewhungry. Back when I actually had time to read blogs, Jewhungry was one that I actually READ. Whit has lots to say about food, parenting, and believe it or not, her husband is a real life marine biologist (I thought that only existed in a Seinfeld episode)! Whitney's chocolate love muffins are a staple in my home, and if you make them, they will be in yours too. Welcome Whitney!
I am so honored to be on this beautiful website! I have been a fan of Chanie and her work for years! I'm doubly excited to be on here while she's at home, loving on her new baby girl. Hurray!
The recipe I've got for ya'll today is one of those that, once assembled and enjoyed, you think to yourself, "ahhhh, the secret is most definitely in the sauce!" I have been a fan of salads since I was a kid. Truly. My grandfather used to love to take my brother and I out for lunch when we would visit our grandparents in Louisville, KY. He would take us all over town and my go-to order as a spritely 7 year-old was salad. I'm not sure what calls to me in a salad. Maybe it's the fact that the toppings can be endless. Maybe it's the crisp freshness of the lettuce itself or the variations one can make on the same thing. I can't really pinpoint what the one thing is that I truly love about salad other than the dressing. Good Lord, gimme all the dressing. I remember reading Michelle Bernstein's cookbook, Cuisine a Latina, in which she unabashedly proclaims that she LOVES drenching her salads in dressing. That's my kinda lady! And therefore, for you today, I have a simply beautiful Fall Farmer's Market salad in which I actually did, in fact, get all the ingredients from the Hollywood Farmer's Market. It's a beautiful salad regardless of dressing but the pesto vinaigrette really takes it up a notch, if you ask me. I also like to use this dressing as a dip for french fries or polenta fries. That's the great thing about salad dressing . . . it goes with everything!
Fall Farmer's Market Salad
4 carrots, sliced in half, length-wise
1 small head of broccoli, cut into florets
4 cloves of roasted garlic, (directions for this below)
1 1/2 cup of mixed green lettuce
1/4 cup pomegranate seeds
1/8 cup plus 2 tbsp olive oil, divided
1 tbsp kosher salt
1/2 tbsp garlic powder
1/2 tbsp ground black pepper
pesto vinaigrette (recipe follows)
Method:
Preheat oven to 400 degrees. Place carrots and broccoli in a large bowl and toss with 1/8 cup olive oil, salt, pepper and garlic powder. Place on roasting pan, making sure not to overlap, and roast for roughly 20 – 30 minutes. I like my veggies to be blackened so keep an eye on yours if you like yours a little less roasty and toasty.
Directions for Roasting Garlic Cloves:
To roast the garlic cloves, place garlic cloves on tin foil. Drizzle with 2 tbsp olive oil. Wrap the tin foil tightly around the garlic and the oil so it does not drip out. Place on your veggie roasting pan and place in the over for 20 minutes or until the cloves feel soft when pressed.
To assemble the salad, artfully place your mixed greens on a large plate. Top with your roasted vegetables and garlic. Drizzles on dressing and top with pomegranate seeds. Enjoy!
Pesto Vinaigrette:
1/2 cup basil
1/4 cup curly kale, de-stemmed
1 garlic clove
(optional) 1/4 cup grated Parmesan cheese
2 tbsp lemon juice
1/4 walnuts or 3 tbsp pine nuts
1/8 cup honey
1 tsp kosher salt
1/2 tsp ground black pepper
3 tbsp red wine vinegar
1/4 cup olive oil
Method:
Place all ingredients, up to the olive oil, into a blender. Turn blender on and gradually add the olive oil in an continuous stream until it is smooth and full incorporated into the dressing. Taste and adjust seasoning to your preference. For best flavor, use immediately or store in the refrigerator in a tightly-closed container for up to 3 days.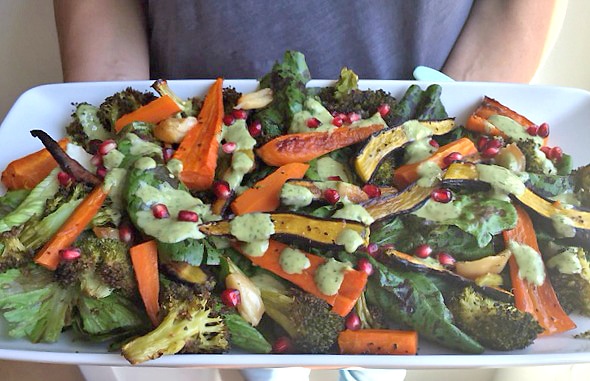 Related Recipes:
roasted veggie quinoa salad
Israeli couscous with honey roasted root vegetables
spicy roasted carrot fries
gluten free pesto zucchini fries