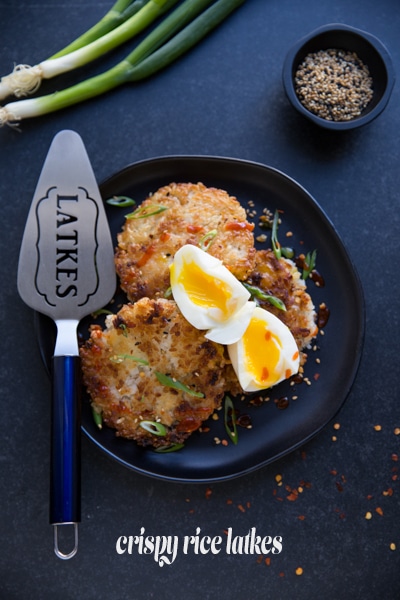 Call 'em crispy rice latkes, call 'em snap crackle and pop cakes, call 'em crispy crack or even tahdig – just do yourself a favor and make them, ok??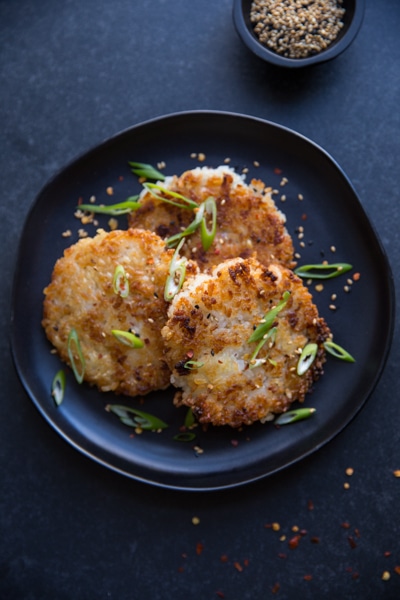 These leftover sushi rice cakes were a total afterthought the morning after a make-your-own-sushi-roll for dinner night. I usually just stir fry my leftover rice and top it with a runny egg for breakfast the next morning but this time, I decided to crisp it up into what basically turned into a crack cake. It's tahdig on steroids and solves the soggy latke problem, because even hours later, the latkes remained super crispy.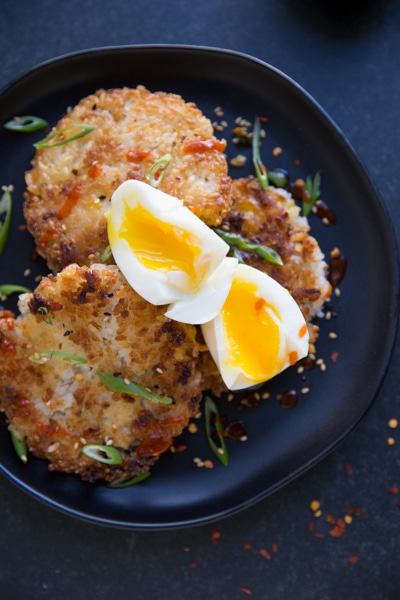 I think my biggest problem was what to top them with but I solved it pretty fast because runny eggs are my jam, especially when they are jammy soft boiled ones. But honestly, the options are endless. Lox and creme fraiche if you're feeling fancy. Caviar if you really want to take it over the top. Some tuna tartare if you want to go Asian, or some sesame pulled beef if you're feeling meaty.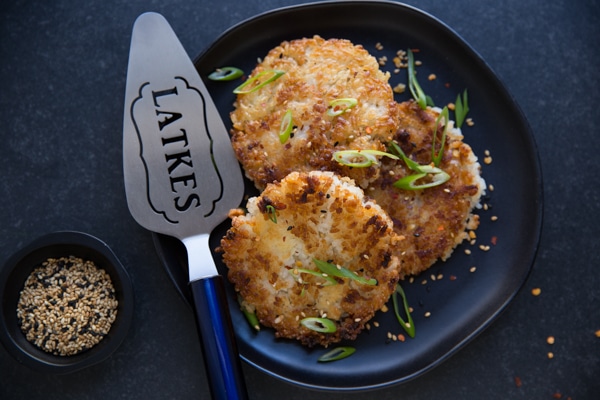 And if you really want to be fancy, mix the scallions INTO the rice before frying. Or add any fillings of your choice. ENDLESS. OPTIONS.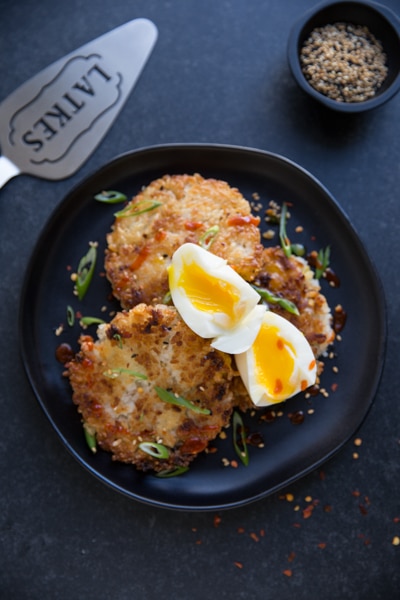 Chanukah has been so good to me. It gave me life (I was born on the 5th night), and it celebrates my Anniversary (I got married on my birthday). I've always felt a special connection to the holiday of fried food, donuts and wine + cheese and I secretly wonder if it's one of the reasons I was born with the foodie gene!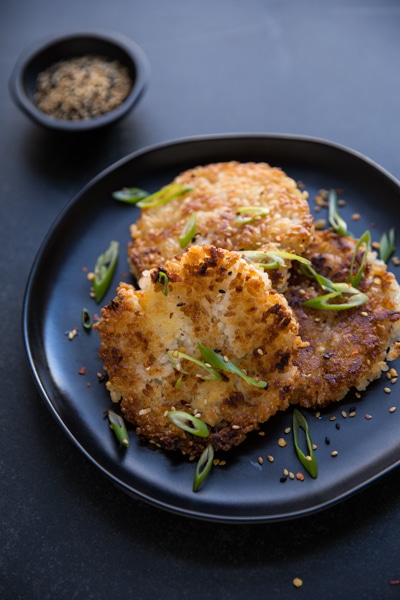 This Chanukah is especially momentous because I get to share the holiday with so many of my fans and followers at my local book signings in Williams Sonoma and Bloomingdales! I could not be more excited to share some of my favorite Chanukah recipes in some of my favorite stores. I am feeling so. very. blessed. Thank you all for making this year so special to me!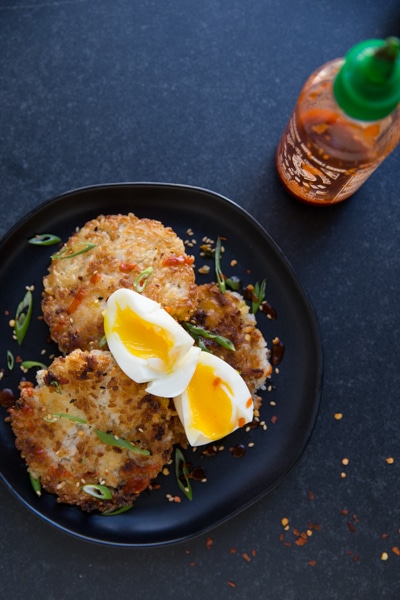 Wishing you and yours a very Happy Chanukah!
Crispy Rice Latkes
2 cups sushi rice
3 cups water
2 tbsp rice vinegar
1 1/2 tbsp sugar
1 tsp salt
oil, for frying
special equipment: ring mold (optional)
Method:
Rinse rice until water runs clear. Bring water and rice to a boil in a saucepan with a tight-fitting lid. Reduce heat, cover and simmer until all liquid is absorbed, about 20 minutes.
Place vinegar, sugar, and salt in a small saucepan. Heat slowly until salt and syrup dissolves.
Place cooked rice in a wide, shallow glass bowl. Toss rice gently with vinegar mixture using a plastic spoon. Cool completely.
Heat oil in a frying pan and grease a ring mold with cooking spray. With wet hands, press some rice into the mold in a thin layer. Alternatively, form rice cakes with your hands. Fry until a crispy brown crust has formed and flip over to crisp the other side.
Serving suggestions:
serve with soft boiled or sunny-side-up eggs with scallions and sriracha
serve with lox and creme fraiche
serve with pulled beef or lamb
serve with tuna tartare or sashimi
serve with guacamole
serve with kimchi and tofu
Variations:
add scallions, herbs and/or cheese to the rice before frying.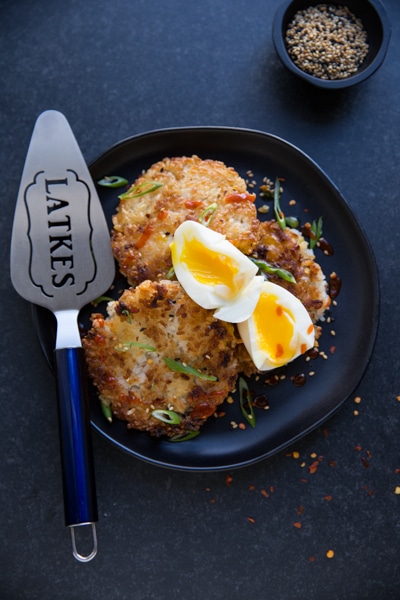 Other Latke Recipes:
salami potato latkes
sabich latkes
falatkes (falafel latkes)
poutine latkes
confetti latkes
butternut squash latkes
cheese latkes