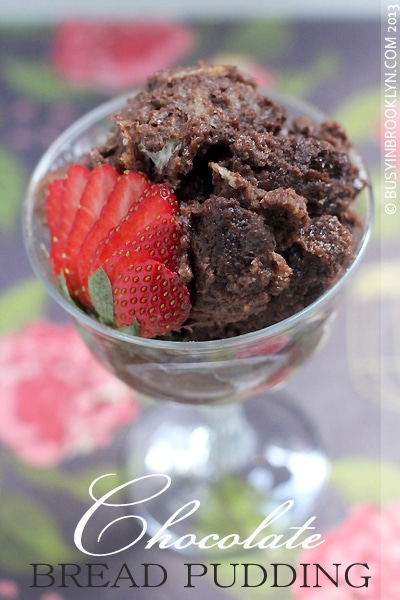 I'm a total sucker for bread pudding. And not just because it's an excuse to use up leftover bread (which would normally be a good enough reason!). It's because it's got that rich comfort food quality that warms you up inside with each and every bite. Spoon after spoon, flavor after flavor, bread pudding is simply, delicious.
Usually, I whip up a batch of chocolate cinnamon bread pudding with chocolate chips. It's really good, I have to admit. But when I made a variation of this recipe in culinary school last week, I was just wowed by the melted chocolately goodness. Instead of just throwing in chocolate chips, the custard is heated and poured over the chocolate, creating a rich chocolate sauce. The sauce is then poured over the bread so that every morsel is soaked in chocolate batter. Every bite is pure chocolate bliss.
Oh, and there's rum too. Do I even need to elaborate?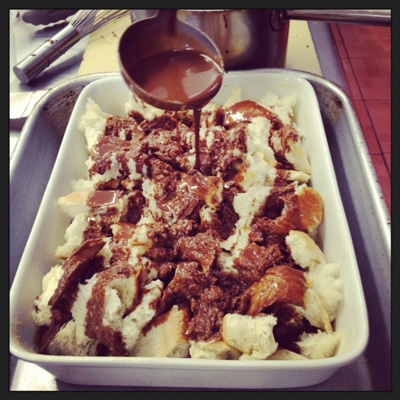 With Pesach a mere 2 weeks away, it's time to pull all that leftover challah out from the back of your freezer and bake up this awesome treat. You'll love it so much, you'll be stashing challah just so that you can make again!
Happy Cleaning!
Chocolate Bread Pudding
adapted from Professional Baking by Wayne Gislin
1 lb. leftover challa
5 cups coconut milk
1/2 vanilla bean*
6 oz. sugar
12 oz. bittersweet chocolate, chopped
2 oz. dark rum
8 eggs
Method:
Tear the challa into pieces and place into a greased casserole dish (or individual ramekins, if you wish). Set aside.
Scrape the seeds from the vanilla bean and add to a pot along with the milk and sugar. Add the scraped bean as well. Heat until the sugar is dissolved and remove the vanilla bean. Pour the hot milk over the chopped chocolate and stir until the chocolate is completely melted and combined. Stir in the rum.
In a bowl, whisk the eggs and temper them by slowly adding the hot chocolate mixture while you whisk. Pour the chocolate mixture over the challa in the casserole dish. Push down on the bread to make sure that it's fully saturated with the liquid.
To create a waterbath (this keeps the bread pudding moist), place the casserole dish into a larger pan (like a roasting pan) and place on the rack in the oven, with the rack pulled out. Add water to the roasting pan so that the casserole dish is surrounded by water, about 3/4 of the way up.
Bake at 350 degrees until a toothpick inserted comes out clean, about 45 minutes.
*If you do not have a vanilla bean, you may use 2 tsp of vanilla extract.
NOTE: If you'd like to make this dairy,use 2 1/2 cups heavy cream + 2 1/2 cups of milk instead of the coconut milk.
1 year ago: Bubby's challah kugel
2 years ago: perfect pareve french toast