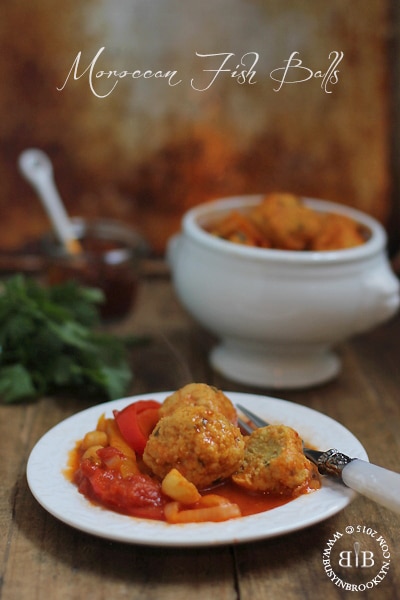 If there is one store I wish every Jewish community around the world would have, it would be Benz's Gourmet. The local gourmet kosher shop is celebrating it's 12th anniversary and we're feasting on a special gefilte fish recipe in their honor!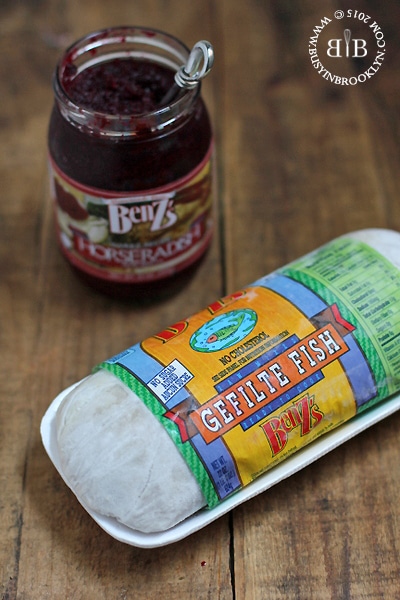 Benz's carries everything from artisan cholov yisroel cheese (imported from France!), smoked fish, caviar, beer, as well as specialty baking and gluten free products. They boast a huge olive bar and a whopping 27 varieties of herring. Whether I'm looking for a gourmet kosher product (like truffle oil), or I'm in the mood for fresh fish, I head on over to Benz's. Thankfully, it's just a few blocks away!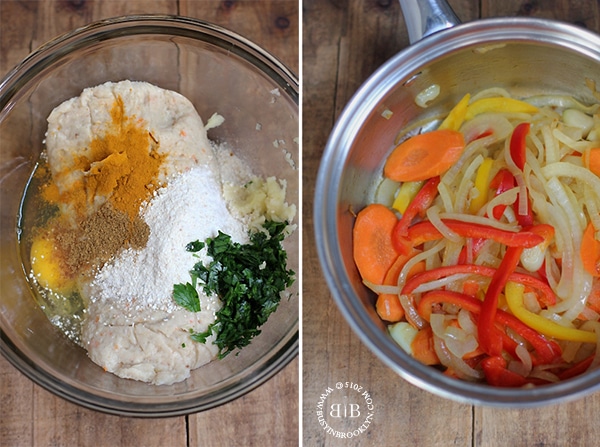 What I love about the store is that they are constantly on the lookout for new kosher products. If there is ever an item that I can't find locally, I ask Benz's to order it for me, and they do! Recently, I needed rosewater for an upcoming Shavuot recipe, and I couldn't find it anywhere. I gave them a call and it was in the store just a few days later. Now that's what I call good service!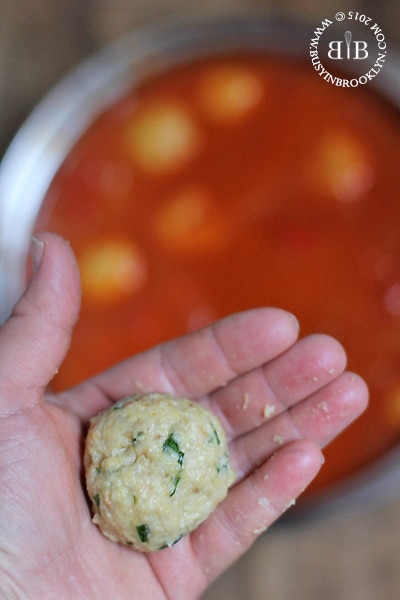 Besides for Benz's gourmet selection, they also carry traditional gefilte fish, a family recipe that they've been perfecting for over 30 years. I'm always looking to change up traditional gefilte ('cuz reinventing traditional food is what I do best!) and Benz's gefilte fish offers me the perfect canvas to build my hybrid recipe.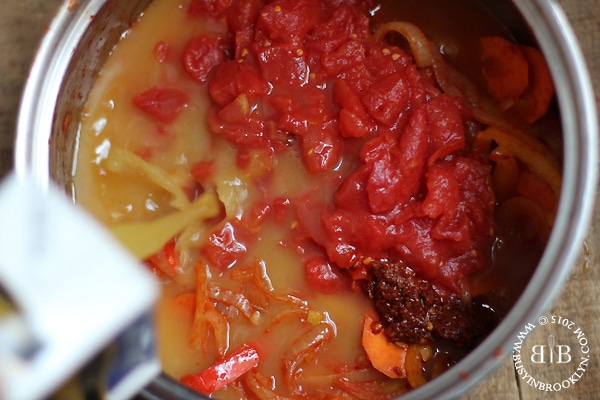 I don't know about you, but the more I cook, the more I appreciate savory food. And the more I experiment, the more I realize that you don't need to use a lot of sweetener in your cooking. My mom doesn't agree, and neither does my Bubby. They're ashkenazi food is loaded with sugar, the more the merrier.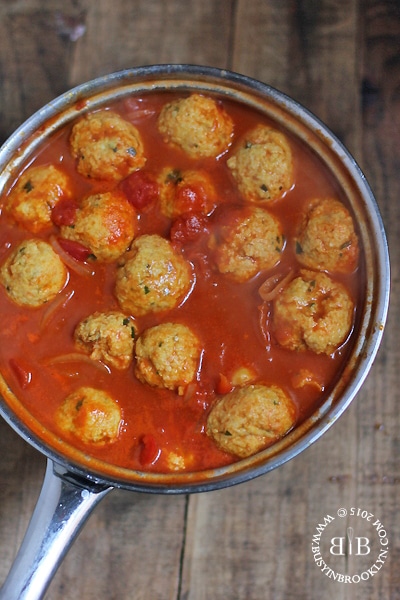 If you ask me, sugar is just a fill-in for the absence of flavor. If you build layers of flavor and spice, there's no need to load sugar into savory food. Look at gefilte fish – most Jewish Bubby's cook it up in stock made of onions, carrots and celery (the good stuff!), they season to taste with salt and pepper and then they go ahead and pour a boatload of sugar into the pot. I grew up on that stuff, so I know. And don't get me wrong, it even tastes good. So does candy.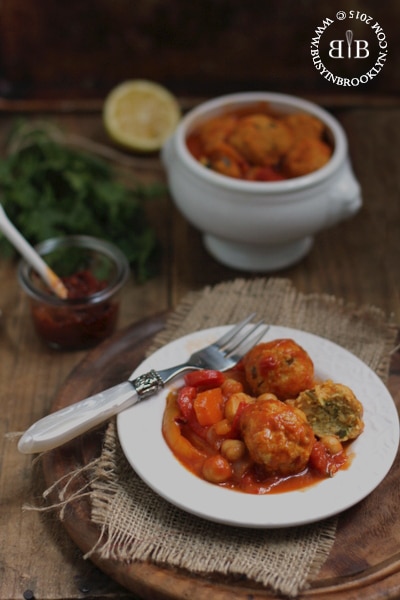 I don't want to carry on the sugar torch, so I'm trying to condition my kids to like savory foods. I don't overload my salad's with sugar, and I make spicy roasted chickpeas as a snack instead of cake. That's not to say that my kids don't get to pick their favorite sugary cereal as a Shabbat treat. Believe me, they have their fill of sugar. But I try. And all Bubby's everywhere are questioning my better judgement!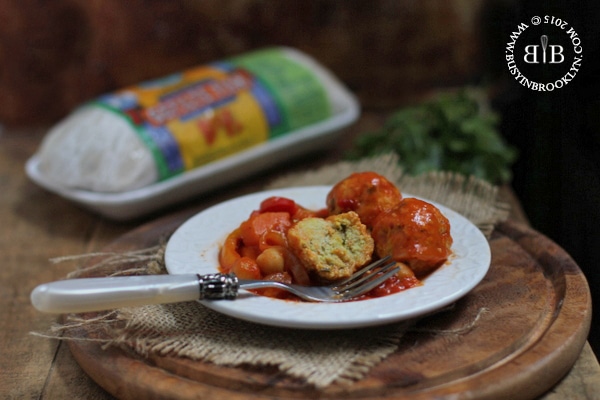 Sephardic Bubby's have been serving chraime for years. it's a popular Moroccan dish of fish cooked in a spicy tomato sauce, and it's usually made with white fish or salmon. I decided to shake things up by using prepared gefilte fish, 'cuz that's the way I roll (pun intended). I incorporated all the traditional elements of Moroccan fish here – including colored peppers, lots of garlic, parsley, lemon, and of course, harissa – a hot pepper paste that's often used in North African cuisine. I've made variations of this recipe for a fish loaf as well as fried patties, but I love how these fish balls can stretch a roll of gefilte fish into so many portions. The fish balls become nice and fluffy, almost the texture of a matza balls, but with lots of spice from cumin, turmeric and fresh garlic.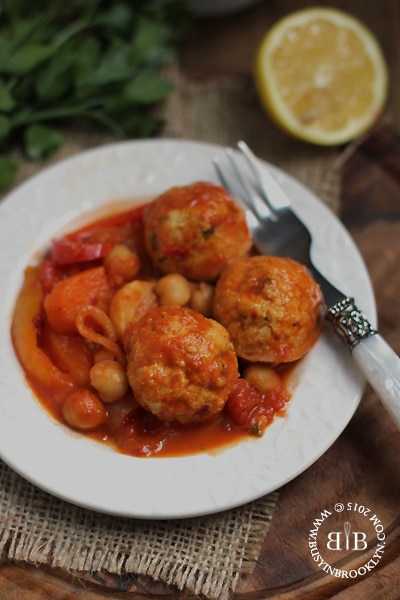 As good as it is, I'm not sure my fusion cooking would win my husband's Sephardic family over (although it did win him over, he asked for triples!). Sephardim are not fond of gefilte fish (understatement). On the flip side, try asking my Ashkenazi Bubby to eat spicy gefilte fish, I can just hear her already. Spicy gefilte fish? With harissa? What's that? Could you pass the sugar please?! So here I am, mixing up the cultures with another one of my hybrid recipes, and I hope ya'll will enjoy it, Ashkenazim and Sephardim alike.
1 pkg Benz's gefilte fish, defrosted (I used no-sugar-added)
3-4 tbsp matzo meal
1 egg
3 tbsp chopped parsley
heaping 1/2 tsp ground cumin
1⁄4 tsp ground turmeric
3 cloves garlic, minced
2 tbsp olive oil
1 onion, thinly sliced
1/2 red pepper, thinly sliced
1/2 yellow pepper, thinly sliced
1 carrot, peeled and thinly sliced
6 cloves garlic, peeled and cut in half
3 tbsp. tomato paste
1/2 cup canned chickpeas, rinsed and drained
1 15oz. can diced tomatoes
1 15oz. can tomato sauce
1 tbsp harissa (or, to taste)
Juice of 1/2 lemon
4 cups fish or vegetable stock
salt and pepper, to taste
Method:
In a bowl, mix the fish, matzo meal, parsley, cumin, turmeric, garlic, and egg. Place in the frige while you prepare the sauce.
Heat oil in a 6-qt. saucepan over medium-high heat. Add onion and cook until translucent. Add garlic, carrots and peppers and sauté until softened. Add tomato paste; cook, stirring, until caramelized, about 3 minutes. Add chickpeas, diced tomatoes, tomato sauce, harissa, lemon, stock, salt and pepper and bring to a boil. Form the gefilte fish mixture into small balls and slowly add to the sauce. Don't overcrowd the sauce, if there isn't a lot of room, wait for the fish balls to set before moving them around to make more space for additional balls. Reduce heat and simmer until balls are cooked through, about 45 minutes. Serve hot with additional parsley for garnish.
NOTE: You may add a pinch of sugar or a drizzle of honey to the sauce if you wish.
VARIATION: Fish balls have more of a fluffy matza ball texture. If you want something more dense, you may fry up the gefilte fish into patties instead. Make the sauce without the stock, adding only as needed and serve over the patties.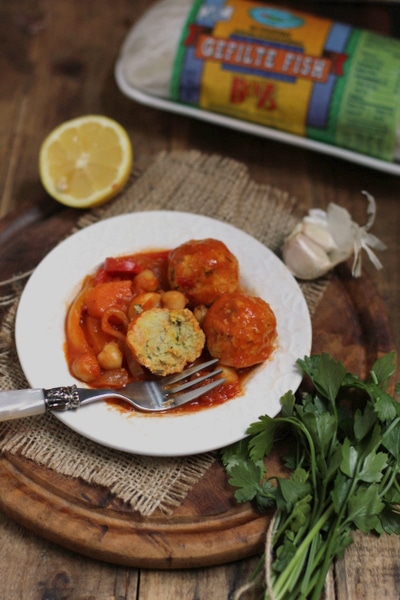 This post is sponsored by Benz's Fish. Follow them on Facebook, Instagram or at BenzsFish.com. And don't forget to visit Benz's Gourmet at 332 Albany Ave in Brooklyn. 
Related Recipes:
gefilte fish patties in tomato sauce
breaded gefilte fish patties
gefilte fish, three ways